Retina
Retinal Disease and Treatment Options in Bangor
The retina is the light-sensitive tissue on the back interior of the eye. This tissue is where light you see turns into signals for the brain. This allows us to see the world around us. A healthy retina is essential for good vision. Unfortunately, there are many diseases that can affect the retina and endanger vision.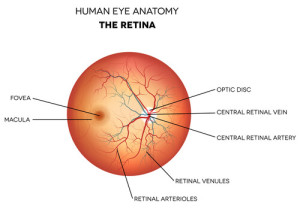 At Vision Care of Maine, we treat several common and less common diseases that affect the retina. Some of these include:
Diabetic Retinopathy
Age-Related Macular Degeneration
Retinal Vasculitis (BRVO and CRVO)
Uveitis (Inflammation of the eye)
Vitreous Hemorrhage
Flashes and Floaters
Macular Edema
Macular Hole/Pucker
Laser Eye Treatments
Retina tear and detachment
Our retina specialists are board certified, fellowship trained in retina and uveitis with over 50 years of combined experience in the field.
We possess the most current technology and treatment options allowing us to customize individual treatment plans for each patient.
Our patients benefit from 10 offices and 2 Ambulatory Surgery Centers located throughout Northern and Eastern Maine allowing for ease of appointment scheduling.
If you have been diagnosed with a retinal disease and you are looking for a highly trained doctor who provides compassionate care, call Vision Care of Maine today to schedule an appointment or ask your doctor for a referral to one of our retina specialists.