Active Lifestyle Lenses
When considering cataract surgery, you will have a few important decisions to make. You will have to choose a surgeon, whether you want laser or traditional cataract surgery, and which intraocular lens (IOL) will work for you.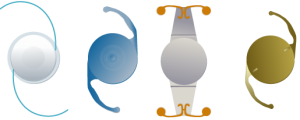 Choosing the right IOL for your eyes is extremely important, as it will be replacing the cataract-affected lens to give you clear vision. There are multiple options you will be presented with, from basic to advanced, some even correcting refractive errors. Your doctor at Vision Care of Maine will aid you in choosing the IOL that will best suit your lifestyle.
IOLs available for you:
Accommodating IOL: Accommodation is the process that enables the eye to adjust its focusing power to provide clear vision. As we age, this function begins to decrease. This type of lens helps patients see both near and far with less difficulty.
Multifocal IOL: Multifocal lenses correct both cataracts and vision at all distances. Many patients who choose multifocal IOLs find that it is possible to go glasses-free or may only need reading glasses. Currently, there are two types of multifocal IOLs: AcrySof IQ ReSTOR and Technis Multifocal IOL.
Toric IOL: This lens is perfect fit for those who have astigmatism as well as cataracts. The Toric IOL corrects astigmatism and some patients who receive it find that they no longer need glasses for good distance vision.
If you are considering cataract surgery, our doctors at Vision Care of Maine are here to walk you through all decisions, making your cataract removal experience easy!